Hurricane Dorian is slowly moving over Grand Bahama Island with devastating winds and storm surge. This is the latest information coming into our newsroom.

Tuesday, September 3
HURRICANE CENTER | ABC Action News Hurricane Center
11 p.m.
Florida's east coast is starting to feel the impacts of Hurricane Dorian. Huge waves, tropical force winds and mandatory evacuation orders are the focus in Palm Beach County. Volusia County residents are also under a curfew.
Mandatory curfew issued for Volusia County
Bracing for Dorian in St. Augustine
8 p.m.
Dorian continues to move northwest at about 6 mph. Highlands County closed its designated public shelter earlier in the afternoon.
Highlands County families monitoring Dorian's path
5:45 p.m.
Some of the first post-storm images out of Grand Bahama are showing children and elderly people huddled in the shovel of a huge bulldozer as it evacuates them to a safer area.
5:15 p.m.
More than a quarter-million visitors and residents have been told to leave North Carolina's coastal region ahead of Hurricane Dorian.
4:18 p.m.
Hillsborough County Schools say classes will be operating under a normal schedule Wednesday, September 4.
3:42 p.m.
USAID providing $200k to @BahamasRedCross for immediate needs. Disaster Assistance Response Team activated & preparing to conduct rapid disaster assessments & to being delivery of emergency relief supplies already pre-positioned in Miami,Barbados, Dominica & Haiti.

— Marco Rubio (@marcorubio) September 3, 2019
3:35 p.m.
The Federal Emergency Management Agency says Hurricane Dorian is still expected to bring life-threatening storm surges even as it was downgraded to a category 2 hurricane.
3:29 p.m.
The U.S. military is taking precautions as Hurricane Dorian threatens ships and planes based on Virginia's coast
2:50 p.m.
Florida Gov. Ron DeSantis expressed some relief that Hurricane Dorian's track changed before hitting the state, but he warned residents near the coast to follow local emergency officials' instructions for evacuations
2 p.m.
Tropical Storm Fernand forms in the Gulf of Mexico
12:12 p.m.
Officials in northeastern Florida are urging people to stay away from the beaches due to possible storm surge from Hurricane Dorian
12 p.m.
Two Florida men have been arrested for stealing sandbags meant for Hurricane Dorian preparations
11 a.m.
Dorian downgraded to a Cat 2 storm, but storm surge continues in the Bahamas
10:25 a.m.
Fort Lauderdale-Hollywood International Airport and North Perry Airports to resume operations at noon
9:35 a.m.
Bahamas Health Minister Duane Sands tells The Associated Press that Hurricane Dorian devastated the health infrastructure in Grand Bahama island and massive flooding has rendered the main hospital unusable
9:20 a.m.
United Nations officials estimate more than 60,000 people in the northwest Bahamas will need food following the devastation left by Hurricane Dorian.
A spokesman for the U.N. World Food Program said Tuesday that a team is ready to help the Bahamian government assess storm damage and prioritize needs. Herve Verhoosel says preliminary calculations show that 45,700 people in Grand Bahama island may need food, along with another 14,500 in the neighboring Abaco islands.
Meanwhile, a spokesman for the International Federation of Red Cross and Red Crescent Societies says some 62,000 people also will need access to clean drinking water. Matthew Cochrane says about 45% of homes in Grand Bahama and Abaco were severely damaged or destroyed and the organization will help 20,000 of the most vulnerable people, including a large Haitian community.
8 a.m.
After remaining stationary for more than 10 hours, Dorian began slowly moving again Tuesday morning, according to the NHC's 8 a.m. update. It's moving northwest at 1 mph.
7 a.m.
The southern eyewall of Dorian continues to lash Grand Bahama Island, the National Hurricane Center says. Winds gusts are up to 150mph, storm surge is 10 to 15 feet above normal tide levels with higher destructive waves and there is extreme flooding.
6:35 a.m.
Florida's east coast starting to feel Dorian
6:03 a.m.
Video into our newsroom: Current sweeps Bahamas residents down flooded street in aftermath of Hurricane Dorian
5 a.m.

Hurricane Dorian has remained nearly stationary over the Bahamas for more than 10 hours, pounding the Grand Bahama Island. NHC says the storm will continue to stay over the island throughout the day before moving dangerously close to Florida's east coast late in the day and through Wednesday evening, coming very close to the Georgia and South Carolina coasts. The storm is then forecast to slowly turn north-northeast Thursday morning, coming near or over the North Carolina coast later in the day.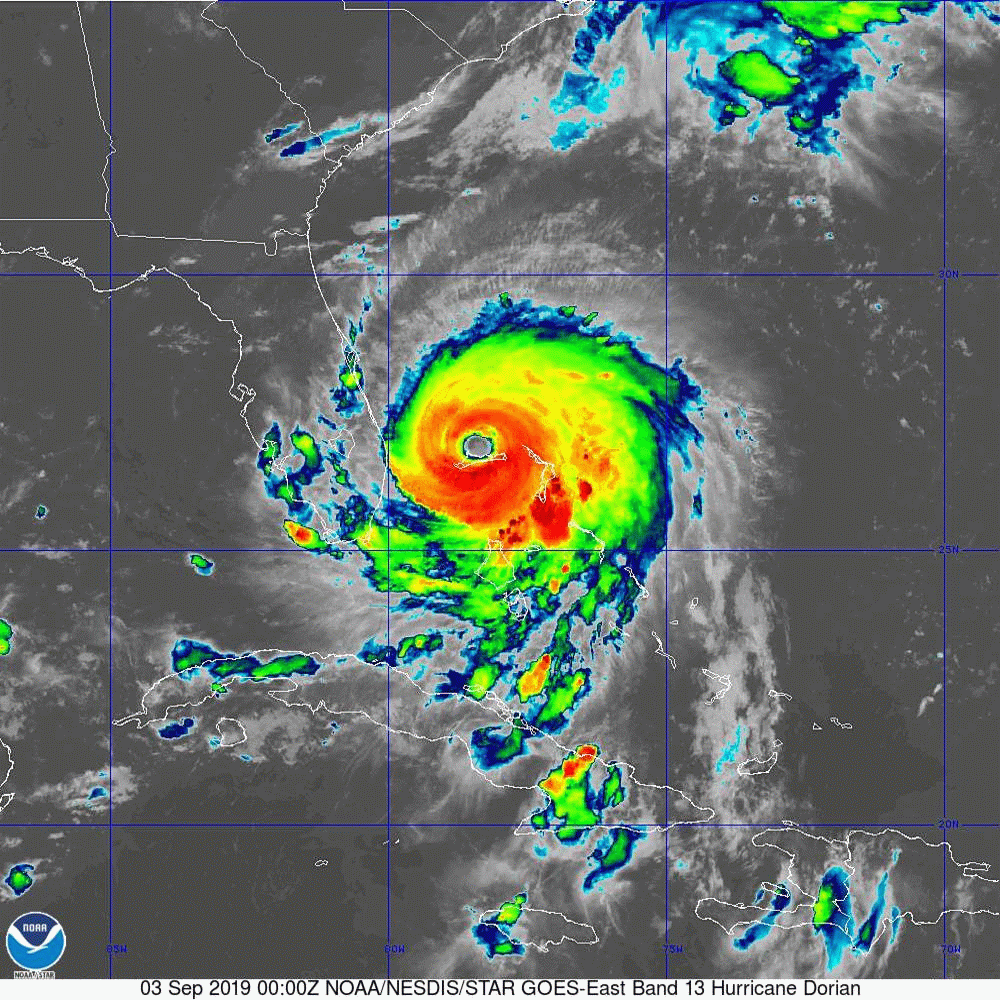 4 a.m.
Bahamas Prime Minister Hubert Minnis has announced that at least 5 people have died in Abaco due to Hurricane Dorian, citing the Royal Bahamas police force. They say damage is "unprecedented and extensive" with an extraordinary amount of flooding and damage to infrastructure. "We are in the midst of a historic tragedy," Minnis says.
Catch up on what happened on Thursday, Friday , Saturday, Sunday and Monday here.