TAMPA, Fla. — Florida residents know that we share the state with a large alligator population — an estimated 1.3 million to be exact! And while that can be scary, alligators are fundamental to the state's wetlands.
This is your guide on what precautions to take so you don't come into contact with them, but also what to do if you see an alligator that you believe poses a danger.
The Florida Fish and Wildlife Conservation Commission has a statewide program dedicated to handling nuisance alligators. If you call the nuisance hotline with concerns, they'll respond and handle the situation.
RELATED: Alligator removed from Florida pond after biting woman
What is a nuisance alligator?
According to FWC, if an alligator is at least four feet long and is in an area where it could pose a threat to people, pets or property it's considered a nuisance alligator.
Residents tend to seek waterfront homes and that increases the chances of interacting with alligators. They've been found in swimming pools, ditches, garages and more.
This woman even caught a gator peeking into the doors and windows of her home.
RECOMMENDED: Fearless? Apply to become a FWC nuisance alligator trapper in Pinellas County
Alligators smaller than four feet are not large enough to be considered dangerous unless they're handled, FWC says. The small gators eat fish, frogs and other small animals but are typically not large enough to pose a threat, even to small pets.
Sometimes however, FWC says the small gators can pose a legitimate problem and must be addressed. In that case, call the hotline at 866-392-4286.
In 2018, the Statewide Nuisance Alligator Program (SNAP) received over 14,000 complaints which resulted in the removal of 8,139 nuisance gators.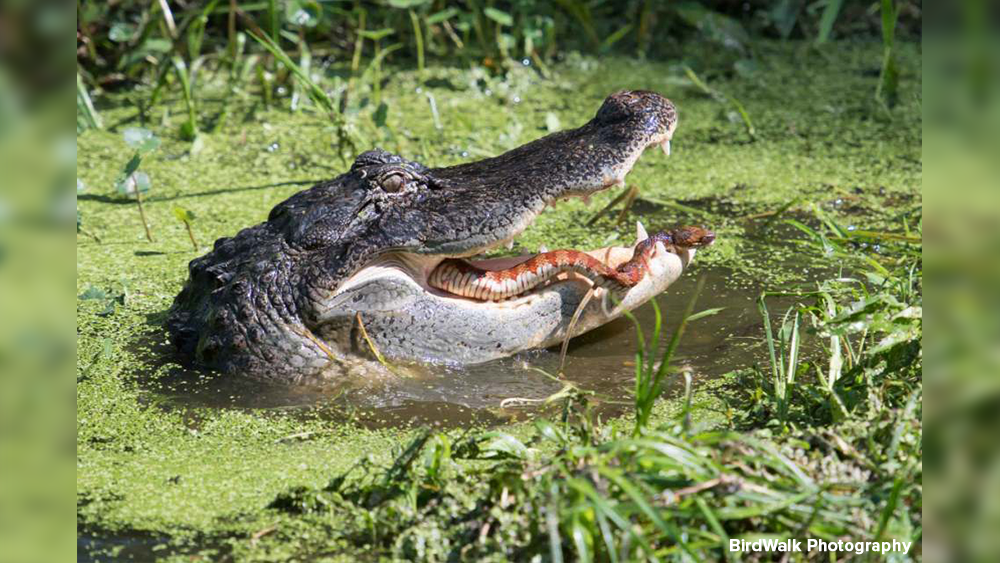 Does FWC relocate the nuisance alligators?
No, the nuisance alligators are killed. FWC says this is because relocated alligators often try to return to their capture site.
RECOMMENDED: Alligator mating season is here, and this is what you need to know
"They can create problems for people or other alligators along the way. If an alligator successfully returns, capturing it again would be necessary and likely more difficult the second time," FWC says.
To avoid that problem, the alligators would need to be relocated to remote areas where they wouldn't encounter people, according to FWC.
Those remote areas already have healthy alligator populations with established social structures. FWC says the introduction of a new alligator would likely cause fighting, and possibly result in the death of a resident alligator or the introduced alligator.
What is my risk of being bitten by an alligator?
According to FWC, the odds of being seriously injured during an unprovoked alligator incident in Florida is about one in 3.1 million.
RECOMMENDED: Florida photographer captures snake attempting to escape gator's jaws
In 2018, statistics show 9 people were bitten by alligators. Of those, 8 were considered major and one was fatal.
However unlikely serious injury may be, you should still take steps and precautions to avoid coming into contact with alligators.
FWC offers these tips for residents:

Be aware of the possibility of alligators when you are in or near fresh or brackish water. Bites may occur when people do not pay close enough attention to their surroundings when working or recreating near water.
Do not swim outside of posted swimming areas or in waters that might be inhabited by large alligators.
Alligators are most active between dusk and dawn. Therefore, avoid swimming at night.
Dogs and cats are similar in size to the natural prey of alligators. Don't allow pets to swim, exercise or drink in or near waters that may contain alligators. Dogs often attract an alligator's interest, so do not swim with your dog.
Leave alligators alone. State law prohibits killing, harassing or possessing alligators. Handling even small alligators can result in injury.
Never feed alligators – it's dangerous and illegal. When fed, alligators can overcome their natural wariness and learn to associate people with food. When this happens, some of these alligators have to be removed and killed.
Dispose of fish scraps in garbage cans at boat ramps and fish camps. Do not throw them into the water. Although you are not intentionally feeding alligators when you do this, the result can be the same.
Seek immediate medical attention if you are bitten by an alligator. Alligator bites can result in serious infections.
Observe and photograph alligators only from a distance. Remember, they're an important part of Florida's natural history as well as an integral component of aquatic ecosystems.
If you come across an alligator you believe poses a threat, call the Nuisance Alligator Hotline at 866-392-4286.
For more information on living with alligators, click here. You can also print this brochure from FWC to keep these tips handy in your home.