HILLSBOROUGH COUNTY, Fla. — Intersection improvements are coming to several locations with high numbers of crashes along Fowler Avenue in Tampa. The changes are designed to help protect people who walk and cross the busy road from right-turning traffic.
This year, Hillsborough County transportation leaders, as well as the Florida Department of Transportation, are planning to tighten up several curbs and right turn lanes along Fowler Avenue.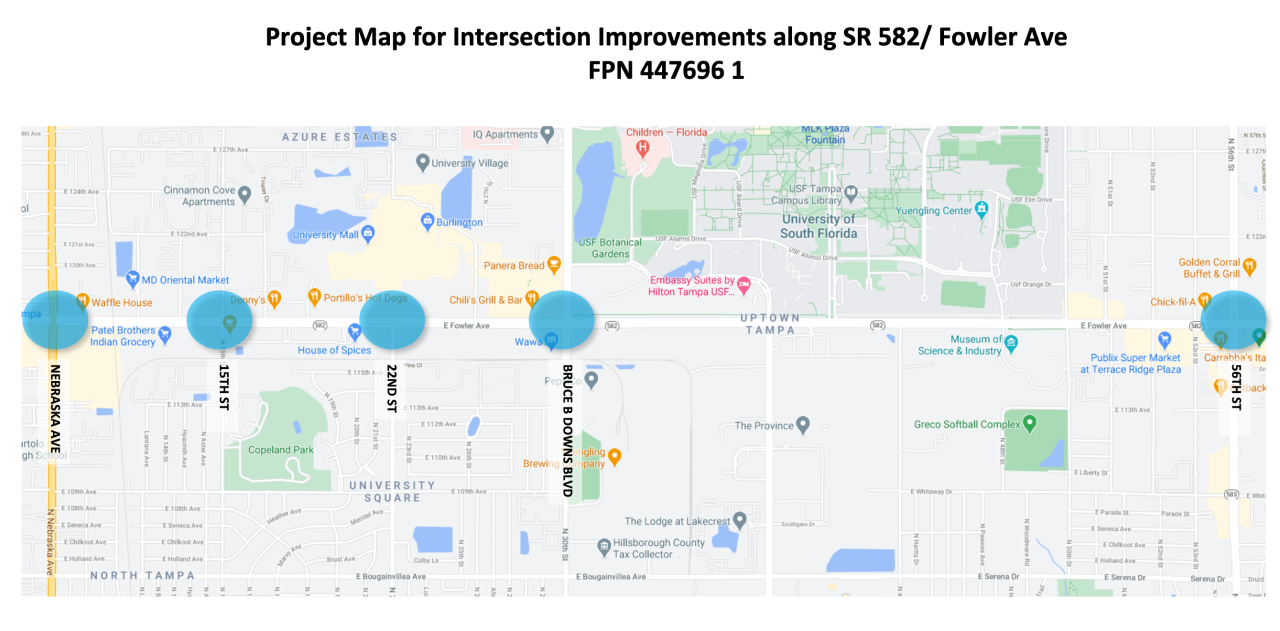 This project includes pedestrian safety improvements to the following signalized intersections:

Fowler Avenue at Nebraska Avenue
Fowler Avenue at 15th Street
Fowler Avenue at 22nd Street
Fowler Avenue at Bruce B Downs Boulevard
Fowler Avenue at 56th Street
The reason behind the project is pedestrian and driver safety. One of the most common types of crashes for people who walk happens when a car turning right hits the pedestrian at an intersection. This is especially common when the curb is fairly wide, like what you'll see at intersections like Fowler and Nebraska Avenue in Hillsborough County.
Wider curbs typically mean drivers are flying around corners at faster speeds.
According to safety recommendations from Plan Hillsborough and Vision Zero, reconstructing the curbs and making them into a tighter turn will help slow drivers down and make it easier for them to see pedestrians waiting to cross or stepping into the intersection. Tighter curbs also help shorten the distance it takes to cross the street, reducing the chance of a crash.
The Florida Department of Transportation has requested these changes for intersection improvements along Fowler Avenue. This project was identified as a candidate in the Fiscal Year 2020/21-2024/25 Transportation Improvement Plan as a priority project for new funding under the Vision Zero category. They will cost $1.7M, according to Plan Hillsborough.
These changes are all based on a massive safety study along Fowler Avenue that found there is a higher number of crashes at these particular intersections.
This also comes after FDOT recently installed several new streetlights along Fowler Avenue to improve safety and visibility.
GET REGULAR UPDATES | Sign up for email alerts about upcoming lane closures and road safety projects along Fowler Avenue