TAMPA, Fla. — As any person who lives in Tampa Bay knows, when it rains, it pours. And if you live near Kennedy Blvd, it often floods.
Business owners along the major road are fed up with the flooding, and they want it fixed.
"Every time there's a little rain, we have to pray that we don't get flooded," said Giancarlo Giusti, the owner of Modulo, a design studio at the corner of Rome Ave. and North A St. in Tampa.
Giusti has got hundreds of thousands of dollars worth of equipment inside his warehouse.
"Welding machines, laser colors, water jets, so every time it rains a little bit, for two hours, three hours, we get the water up to four inches inside the space here and we feel like we're gonna lose our business," said Giusti.
Just up the street, Nate Siegel is trying to get his business up and running.
"We were nearly done with construction, and then we were flooded nearly 2 inches inside the restaurant in the middle of June," said Nate Siegel, the owner of Willa's, a new restaurant and bar at the corner of Rome Ave. and Fig St. that he's hoping to open this year.
Now he's got sandbags and floodgates at each doorway, and he's rebuilding.
"We're approaching this now, that water might come in every month. Worst case scenario, create this area that can hold water, which I know sounds completely crazy, but that's, unfortunately, our only option that we have right now," said Siegel.
For warehouse owner Charles McKeon, he's repaired two garage doors and constantly worries what the next storm might bring.
"I've had as much as 8 inches of standing water in my shop," said Charles McKeon, who owns a storage warehouse at the corner of Rome Ave. and North A St.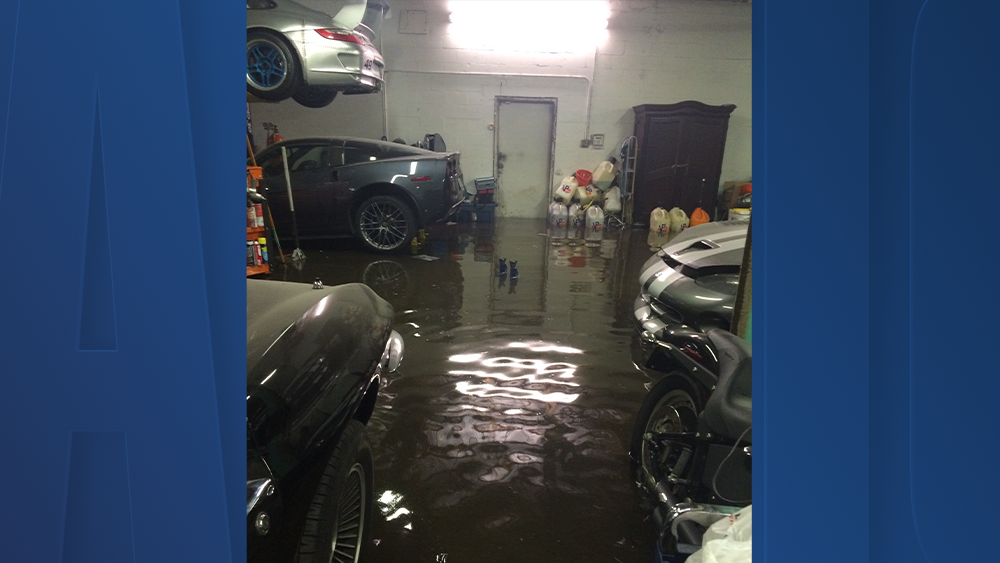 Both FDOT and the City of Tampa say they're working to fix the issues, but it will take time.
The city is currently working on its Cypress St. outfall project along Rome Ave. That project is expected to be completed 18 months from now. It's a $33 million project, and the Southwest Florida Water Management District is funding half of it.
City of Tampa Stormwater Chief Engineer Al Hoel says the city has been working with FDOT for over a year to address the flooding issues surrounding Kennedy Blvd., as Kennedy Blvd. is a state-owned road.
Hoel says in order to resolve the issues FDOT will have to build a hydraulic model to determine whether the City of Tampa's current outfalls work, and if they don't, Hoel says the city will work with FDOT to add new outfalls.
FDOT says some of the City of Tampa's six outfalls date back to the early 20th century and do not provide the level of service expected today.
Still, FDOT is planning an improvement project for Kennedy Blvd. In a statement from FDOT they said:
"Kennedy Boulevard will be improved with a focus on Complete Streets design to address safety, encourage multi-modal usage and improve connectivity. The project will resurface the roadway, implement wider sidewalks, add signals, manage access and implement drainage improvements."
FDOT
FDOT also has plans to work with the City of Tampa to incorporate drainage improvements along Kennedy Boulevard near the Cypress St. outfall on Rome Avenue.
Additionally, FDOT has right-of-way east of the railroad tracks, continuing out to the Hillsborough River. A new storm sewer system is proposed between the railroad tracks and the river to serve Kennedy Boulevard.
FDOT says they're planning to start making these improvements in the Fall of 2022.