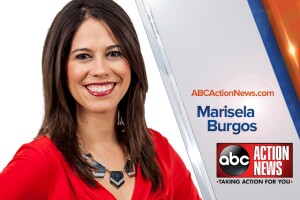 Marisela Burgos joined ABC Action News as a reporter in April 2015. She is beyond excited to be back in Florida and closer to family. She graduated high school in South Florida and then graduated from Florida International University with a Communications degree and a specialization in Broadcast Journalism.
Her career has taken her to television stations in Greenville, North Carolina, Louisville, Kentucky, and Indianapolis, Indiana. She has enjoyed every experience along the way and met wonderful people in every state. Her favorite memory in North Carolina was getting into a sumo wrestling suit at a Kinston Indians game and wrestling against a TV competitor/friend. In Louisville, she loved covering Thunder over Louisville, the Kentucky Oaks, and the Kentucky Derby.
Marisela has become a big horse racing fan and she's rooting that one day Jockey Joe Talamo will win a Kentucky Derby. While in Indianapolis, Marisela covered a variety of stories that impacted Hoosiers. Some of her favorite memories were covering the Super Bowl when Indianapolis hosted it, being a part of the Indianapolis 500 experience, and meeting IndyCar champion Dario Franchitti.
Marisela is honored to be back in Florida, covering the stories that matter to you. While in Louisville, KY at WAVE 3 News, she was nominated for an AP award for Best Investigative News story.
She was also nominated in 2015 for her work the previous year at FOX 59 News in Indianapolis; she has received an individual Emmy nomination for two stories about car seat standards and testing. She received a second Emmy nomination for her story within a newscast about an officer who was killed in the line of duty.
Marisela is passionate about journalism and making an impact in this community. If you see her on a story, please do not hesitate to say "hello". You can follow her on Facebook and Twitter. Do not forget to send her story ideas. You can email her at marisela.burgos@wfts.com.
Marisela was born in Puerto Rico. She is a fluent Spanish speaker. If you have any restaurant suggestions or places to visit, since this is her first time living in Tampa, let her know!