The Centers for Disease Control announced it is easing its indoor mask guidance for the public and in schools.
The new metrics used to determine whether a mask should be used indoors will now focus more on hospitalizations and hospital capacity and less on COVID-19 cases.
Those metrics will be used to create three levels of risk:
Low: Indoor masks are not needed
Medium: People who are at high risk of severe COVID should consult with their doctor about prevention measures including masks
High: Indoor mask use is recommended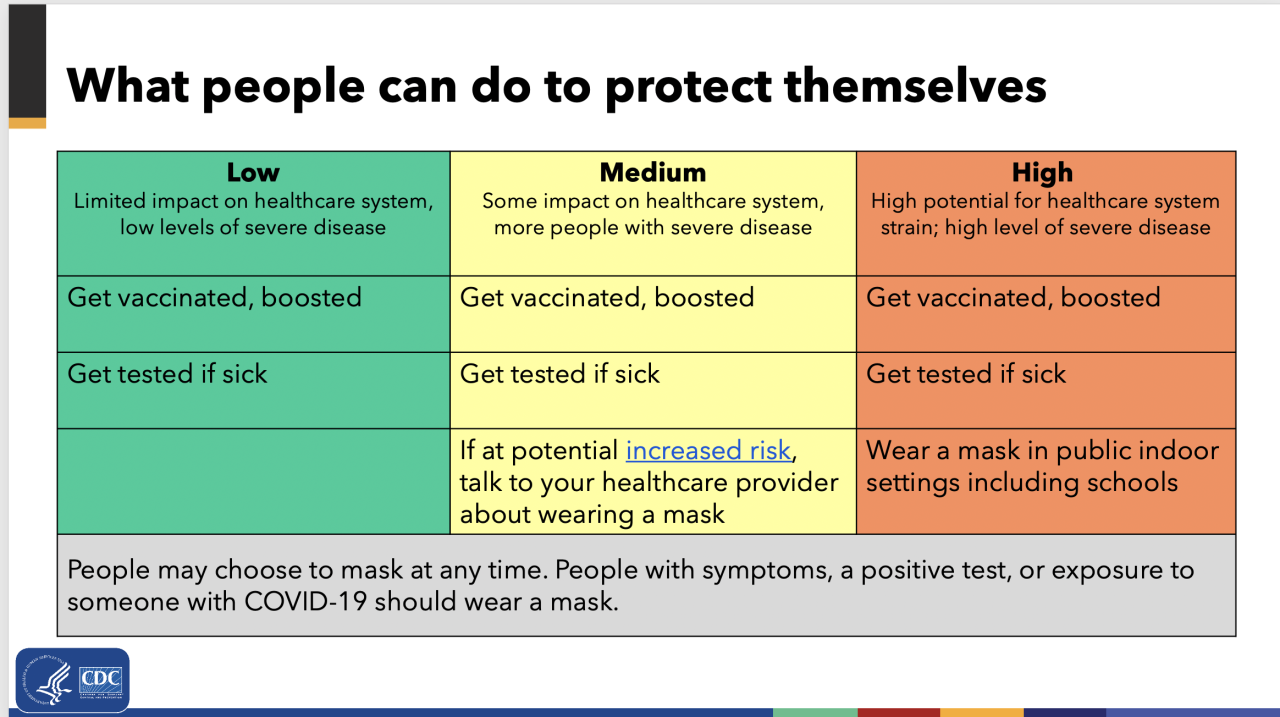 "Just for example, based on data as of this past Friday, under the old metrics 84% of the counties in the United States were classified as high transmission and with a new metric only 38% of US counties are classified as a high level, high-risk level," said Jason Salemi, an Associate Professor of Epidemiology at USF.
Salemi said that's partly because case data is problematic and the count isn't always a reliable number and even though omicron seems to be way more transmissible, it's sending less people to the hospital. He also the CDC is grouping counties into regions for a more accurate reading.
Salemi said what concerns him is the CDC's guidance about talking to your doctor about mask wearing since 1 in 4 people in the U.S. don't have a primary care physician. It's why he's reminding folks they can still choose to wear a mask if they want.
"Regardless of what's being said at the local state the national level you can still exercise your own caution depending on your situation," he said.
The CDC now only recommends universal masking in schools for areas in the "high" category.
"Right now, I would say 1% or 2% every day," said Mohammad Shabanah, manager of Harvest Bowl in Seminole Heights said about customers wearing masks. "Before it used to be like the most, but now no."
He said during variant surges his employees wear their masks daily but lately with a fall in cases, they don't have to wear one.
"For us we don't require it right now because we follow the customers requirement," he said. "So, if somebody says 'hey you guys need to do the masks,' we'll do it again, we don't mind at all."
That even goes for someone who comes in and wants them to put on a mask while they prepare their food, or change out there gloves. He said those are simple requests he is more than happy to accommodate.
"It's for our safety and for the customers safety," he said.
"I think that's a nice way of just being respectful to those around you," Said Dr. Salemi. "This is unfortunately an infectious disease, our actions impact other people."
The CDC said it is adding a tool on its website for people to find out their COVID-19 community risk level.
The new guidance comes as almost every state in the country has either dropped its mask mandate or announced plans to lift the mandate soon. Hawaii is the only state in the country to make no such announcement.
The U.S. has seen a dramatic drop in COVID-19 cases since the omicron variant peaked in January.
The CDC said there's been a 43% drop in cases in the seven-day average when compared to the prior week.