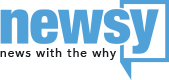 abcactionnews.com
National News Partner
Astronomers Find Nearly 100 New Exoplanets
Around 3,600 exoplanets have been found since the first one was discovered in 1995. On Thursday, astronomers published a study and added nearly 100 new planets to that count.
Astronomers spent four years pouring over data from NASA's Kepler space telescope's K2 mission. In that time, they found 95 new planets.
SEE MORE: Nearby Exoplanets Appear To Be Pretty Rich In Water
The planets range in size from super-Earths to Jupiter-sized giants. And one of them is orbiting a very bright star — the brightest star Kepler has ever seen with an orbiting planet.
All of these findings add to scientists' understanding of exoplanets, which in turn helps us better understand our solar system and its place in the universe.
---
Trending stories at Newsy.com