Polar vortex to take another spin through U.S.
Arctic blast affects eastern two-thirds of country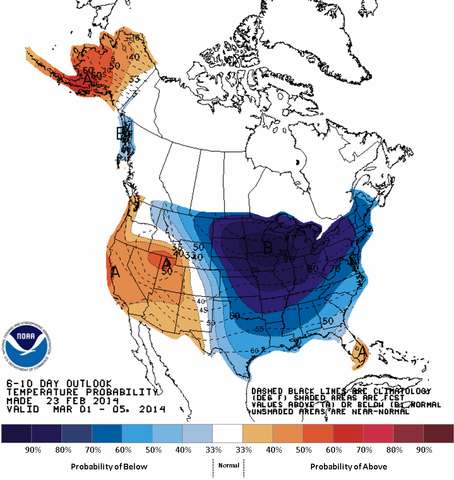 Sequels are rarely as good as the original, and things usually get worse with each iteration. In another arctic outbreak expected this week in the eastern two-thirds of the country, the polar vortex is back.
In looking at how far temperatures will differentiate from where they should be, it's going to be 20 to 30 degrees colder -- and in a few isolated spots, 30 to 40 degrees colder — than the average. That's the same as all of the previous arctic outbreaks. However, if we're looking at actual temperatures, it won't be as cold.
Since the first bitter cold air arrived in early January, average temperatures have warmed up 5 to 7 degrees.
This is probably not the final blast this season. Long-term forecast models have most of the country experiencing colder than average temperatures through at least the first 10 days in March.
In the meantime, there will likely be some ups and downs during this slow climb out of winter. As days get longer in the Northern Hemisphere, and more daylight means more sunshine, which means we'll slowly be warming up - even if it takes until June to get there.
Follow Scripps Digital Meteorologist Jason Meyers via the Storm Shield app on twitter, @StormShieldApp and Facebook. Download the Storm Shield Weather Radio App for your iPhone or Android device and get severe weather alerts wherever you are.